This Tuesday is the new drop off date. The contact we were working with retired, so our original drop off date had to be changed. God is bigger than all of that though. We are so excited to drop off all of these items you so generously gave. Tonight I was missing my sister as I tried my hand at creating a logo so that the families could remember us and come to this blog and find out more about the journey the clothes took before they were given to their child. I am not an artist. I knew my sister would do this for me, and you may see her more polished logo eventually, but for now it's a work in progress.
I've also made it a blog button, so that you can add it to the sidebar of your blog and let other people know what we are doing. Just paste the code from the box on the right into an HTML/Java script gadget in your layout designer. It will look like this: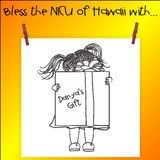 Then when anyone clicks on it they will come right here. This year we have been very blessed and I really feel like God is calling us to be a gift to the families of the NICU and Special Care nurseries all year round. Please check back often to see what we are up to next.